The team at Charterhouse Recruitment are actively involved in community-centred partnerships, and giving back to sick and less fortunate children is at the forefront of these activities.
For the month of March, members from our teams at Charterhouse Partnership & Charterhouse Medical are taking part in the '86K for a Cure' event with the Children's Cancer Institute to raise money for the 86 children who are diagnosed with a form of cancer every month in Australia.
We were able to take time out with team members from the Children's Cancer Institute to ask questions that give a greater insight into the 86k for a Cure challenge.
Nadya Landey - Community Engagement Senior Executive:
1. What is Children's Cancer Institute's mission?
Children's Cancer Institute is the only independent medical research institute in Australia solely dedicated to cure childhood cancer. Our mission is to save the lives of all children with cancer and improve their long-term health through medical research.
2. How will 86K for a Cure help kids with cancer?
Every month in Australia, 86 children are diagnosed with cancer and devastatingly, 12 of these children will not survive.
Sixty years ago, cancer was a virtual death sentence for a child. Today, more than 8 in 10 children with cancer survive – this is the power of medical research. Our focus is on translational research, and we have an integrated team of globally recognised lab researchers and clinician scientists who work together in partnership to discover new treatments which can be progressed from the lab bench to benefit children on wards in our hospitals as quickly as possible.
These new treatments are specifically targeting childhood cancers, so we can develop safer, more effective drugs to give children with cancer the best chance of a cure with the highest possible quality of life.
3. What can the funds raised from Charterhouse help towards?
We are so pleased to have Charterhouse involved in 86K for a Cure and want to thank each member of the team for their incredible fundraising efforts.
So far, you have all helped to raised over $13k, which could help fund the screening of 13,000 potentially life-saving drugs compounds in our Drug Discovery Centre. To find out more about this, please head to chapter 4 on our virtual lab tour: https://ccia.youtour.com.au/#institute.
When restrictions allow, we look forward to welcoming the Charterhouse team for a tour at our labs in Randwick to see first-hand the amazing impact that your dollar will have.
​
Kim Hanssen, Research Officer in the Experimental Therapeutics team:
1. How's your 86K for a Cure challenge going?
It was admittedly a slow start (I'm not the best with running in the rain!), with more walking than running so far, but with 65km already down and some amazing donations already coming through, I'm keen to see how we go by the end of the month!
2. What research area do you and your team at the Institute focus on?
I'm part of the Experimental Therapeutics program at the Children's Cancer Institute, so our work focuses on developing new drugs for paediatric use that are more targeted towards the cancer cells, so healthy normal cells are spared and side effects are reduced.
My work specifically looks at why some tumours become resistant to anti-cancer drugs during treatment. I then develop new treatment strategies that stop the causes of drug resistance so treatments can work effectively again – essentially, we aim to develop treatments that make other drugs work better, providing more treatment options for difficult to treat cancers.
3. What does 86K for a Cure mean to you and your team?
Medical research is the only way to find a cure for childhood cancer but research is expensive and it can take years to develop a drug through from discovery to being ready for the clinic. 86K for a Cure is helping us raise awareness about childhood cancer, about our Institute and our research, and is raising vital funds needed to support these long-term projects that are needed to find these cures. It's bringing together teams within our Institute, within workplaces, and with families and friends to all work together to help cure every child of cancer and raise funds needed to help continue our research.
4. What is your top fundraising tip?
I've found putting the word out on social media is a great way to fundraise. But I also love getting friends, family, colleagues, neighbours (anyone!) involved in the challenge – get them to come along for one of your walks/runs, take the opportunity to chat about our work and the cause, and spread the word about 86K. A great excuse to spend time with those close to you and fundraise for a great cause!
​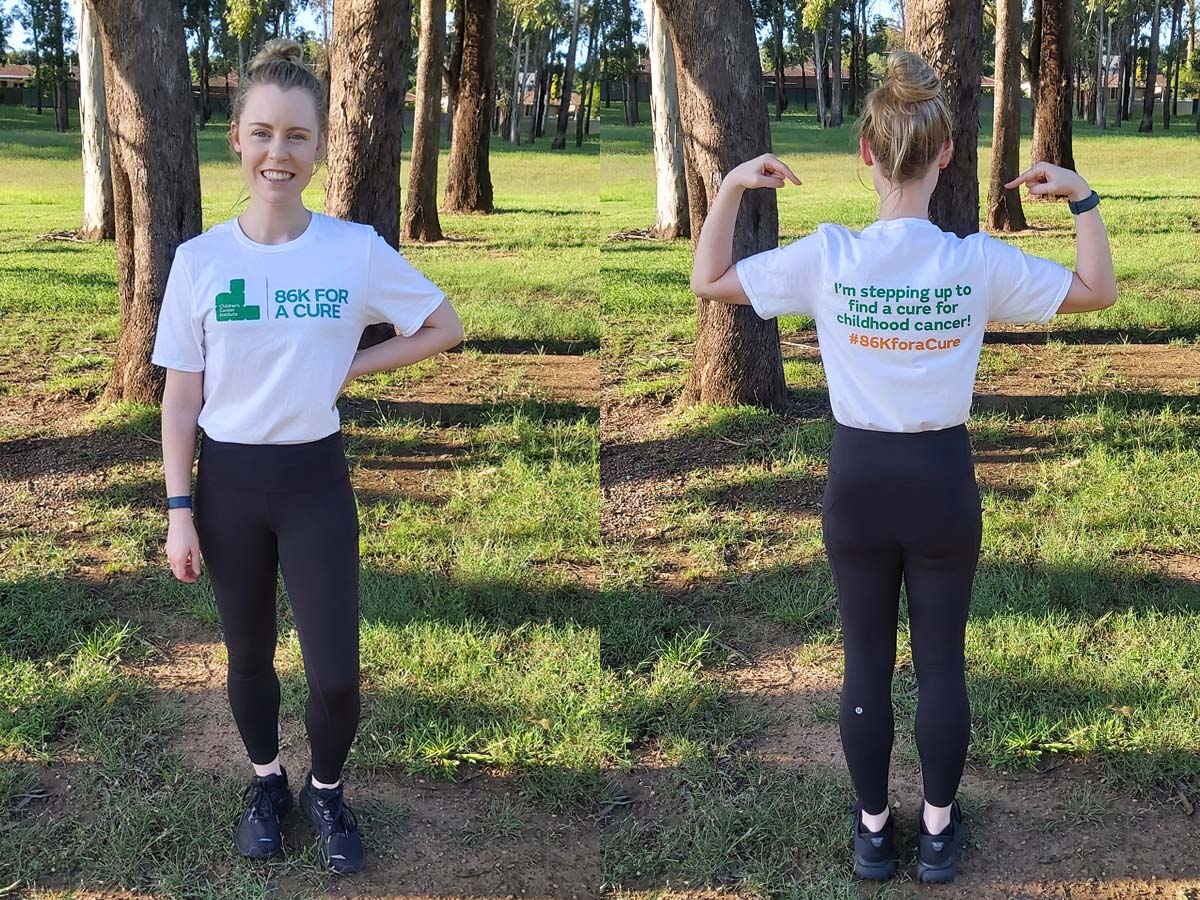 ​
If you would like to donate to the Charterhouse Team -> click on the link below:
https://bit.ly/3pv0Rv3 ​