We place a premium on the concept of people first and all the values that embody that philosophy. Whether you're a career recruiter or new to recruitment, you're about to empower future generations by helping people find their dream jobs. Expand your network, evolve your skills, enhance your experience with Charterhouse Australia. Why are we different? We do what we say!
Ready to dive in?
Investment in our People
Without brilliant people, we cannot do brilliant work. We need your unique skills and abilities. We need to see your way of looking at the world. At Charterhouse, we have a comprehensive learning and development program that empowers our team with the knowledge and tools to thrive in their recruitment career and also in broader business management. You'll be part of a dedicated team from day one, working, learning and achieving together.
Commitment to Diversity
There are no labels, bias or judgment at Charterhouse. We are one of only two recruitment businesses with membership of Diversity Council Australia, and we actively promote diversity in all aspects both within our company and externally. Our management team is 42% female, and we are continuing to work to reduce the gender gap. We are also seeking ways to promote cultural awareness and to encourage indigenous employment. Our team also works alongside WithYouWithMe to place veterans in rewarding roles in the civilian sector.
You can be sure of a safe and inclusive environment at Charterhouse, as well a genuine focus on diversity across all our business activities.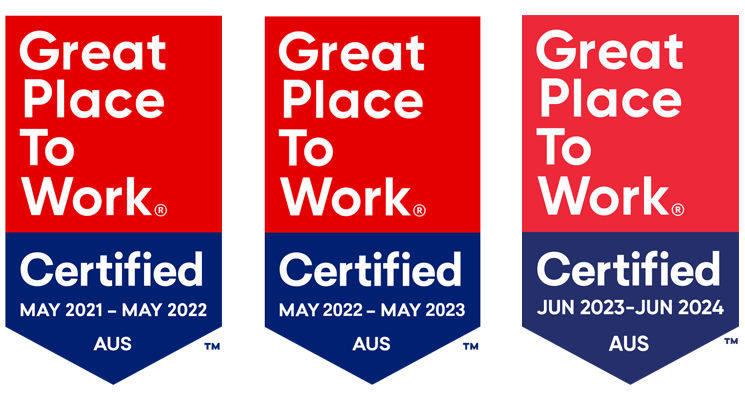 We're Award Winning
Charterhouse is a multi-award-winning organisation that prides itself on being a top workplace in Australia. This recognition is the culmination of over 4 years of collaboration and focus that began in January 2017 with fully scoping out a "People before Processes" strategy that would go on to be central to everything that we do. A strategy that sought to develop and implement a suite of initiatives, ideas, projects, and frameworks that were singular in their objective to create an environment that would make Charterhouse Australia a great place to work for our people; always.
Flexible Career Paths
We recognise that every individual has a different idea when it comes to careers. You may want to experience different disciplines; or perhaps you are attracted to a more commercial-style role; or maybe you've always aimed to move up the ladder to senior management. At Charterhouse, you're in control of your future. We offer a clearly defined career path, with options to move both laterally and vertically, or specialise in business development.

Strong Company Culture
We believe in people over placements; always! We are a company that does what it says. We respect those around us. Charterhouse is bound by its people. When our people feel their best, they perform their best. We want you to be excited about every working day at Charterhouse, so we place a lot of emphasis on company culture. We are all individuals, but we are also a united team with a desire to achieve – and exceed – our goals. We actively encourage strong bonds to form between our people, but we also promote healthy competition. Above all, we continually strive to ensure the highest levels of satisfaction from our team. We are a passionate, tenacious, hard-working, fun-loving bunch.