​It's important to define what we mean when we talk about team culture. But it's not easy to pin down. Is it a set of values? Behaviours? Attitudes? Or customs and traditions? What we have learnt from the changing landscape of business is that it's all these and more.
Forbes describes workplace culture as, "the environment that surrounds us all the time." The jobs website Indeed says it's a "collection of attitudes, beliefs and behaviours that make up the regular atmosphere in a work environment."
However we define it, workplace culture can be tricky to measure in any tangible way. It's how it feels to be at work rather than a set of written rules. Every organisation has its personality and atmosphere – and that's not something easy to engineer.
Charterhouse Recruitment CEO, Jason Darbyshire says the workplace culture that helps drive continuous growth in our organisation is a testament to everybody that works here and is about how we choose to show up, interact and engage with each other, and indeed with our customers". Our success hinges on our people. They are the "secret sauce" in our recipe that makes such a great workplace."

At Charterhouse Recruitment we're always looking for ways to build on our team culture. As we grow and look to our future beyond 2023, team building is as important as ever. Fostering high-performing teams through better collaboration, building better connections with each other, and boosting our creativity are central to our employee engagement.
As the end of 2022 was closing in on us Josh Mullens joined the Charterhouse Melbourne team as the new General Manager for Victoria. Having started in recruitment in 2010, Josh brings a wealth of industry knowledge that compliments his people over placements approach. First in the UK at a firm called Rullion and most recently at Hays in Melbourne since 2014 where he has been promoted over 5 times having successfully managed and grown teams whilst both retaining and developing his people.
Wanting to bring the team together for a bonding and development session, Josh wanted an activity that accounted for the whole team's style and personality. What better way than to focus on the thing we all love most. Food!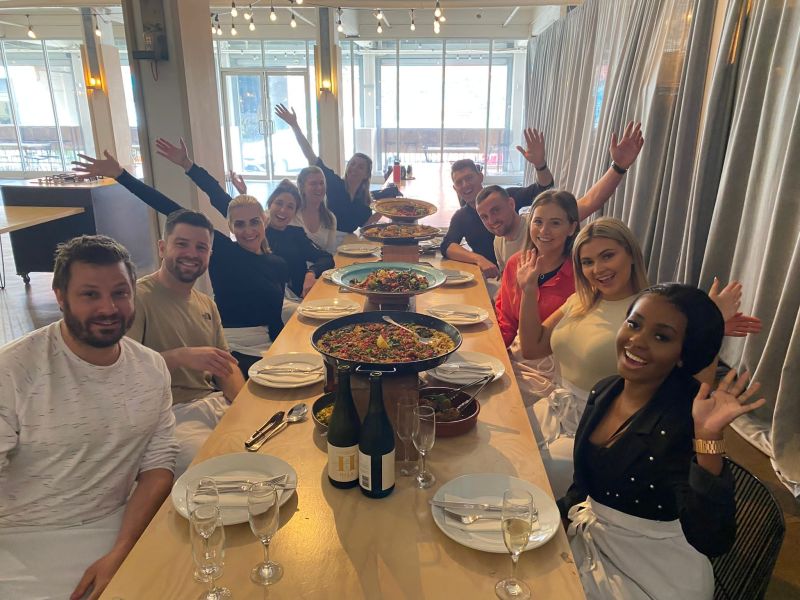 Josh also had a vision to ignite the team's creativity, in a setting that put the team on the edge of their comfort zone. Roles in the office don't allow much opportunity for people to freely express themselves, as much as we'd like, even though this is so important in the modern workforce.
Going offsite in a new environment, learning how to cook a cuisine that would test the boundaries of the team's culinary skills. It also helped to home in key team building skills. Being a good chef is all about communication. Constant, clear, and constructive communication. What better way to hone these skills as the team they worked to put together a middle eastern platter!
With an added element of healthy competition as the team were split into two groups – they had the opportunity to be marked, not only on the taste of their dishes, but more importantly on their teamwork. All in all, a day well spent and some great recipes to take home!
If you are looking for an organisation driven by the success of its people then you may want to consider Charterhouse Recruitment ->> APPLY NOW